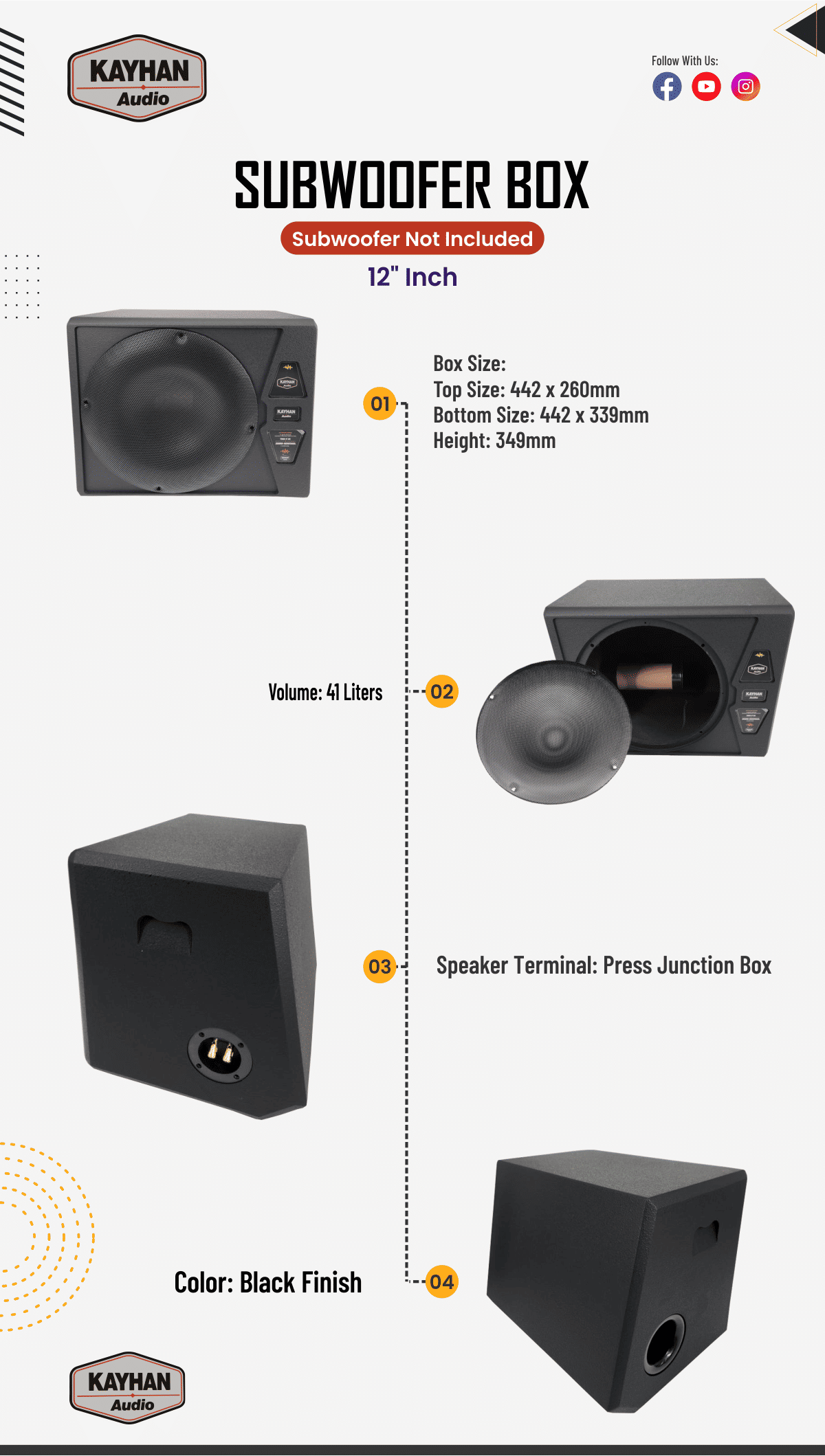 12-Inch Subwoofer Box (Subwoofer Not Included)
If you're looking to upgrade your car audio system with a 12-inch subwoofer box, here are the detailed specifications for this product:
Box Specifications:
Box Size:

Top Size: 442 x 260mm
Bottom Size: 442 x 339mm
Height: 349mm

Internal Dimensions:

Top Size: 402 x 223.5mm
Bottom Size: 403 x 299mm
Height: 309mm

Volume: 41 Liters
Construction: 20mm Medium-Density Fiberboard (MDF)
Color: Black
Speaker Terminal: Equipped with a press-type junction box for secure and convenient speaker connections
Speaker Wire: 50mm², 10 feet in length
Packing: Cardboard box

Dimensions: 50.5 x 39.5 x 41.5cm
This 12-inch subwoofer box is designed to provide powerful and deep bass for an immersive audio experience. Please note that the subwoofer itself is not included with this box. Here are the key specifications:
Spacious box dimensions suitable for a 12-inch subwoofer
Durable construction with 20mm Medium-Density Fiberboard (MDF)
Sleek black finish for a modern appearance
Press-type junction box for secure speaker connections
50mm² speaker wire included for efficient power delivery
Shipped in a cardboard box for safe transportation
With a volume of 41 liters and sturdy construction, this subwoofer box is an excellent addition to your car audio system, delivering enhanced bass performance. Keep in mind that you will need to purchase a compatible 12-inch subwoofer separately to complete your audio setup.