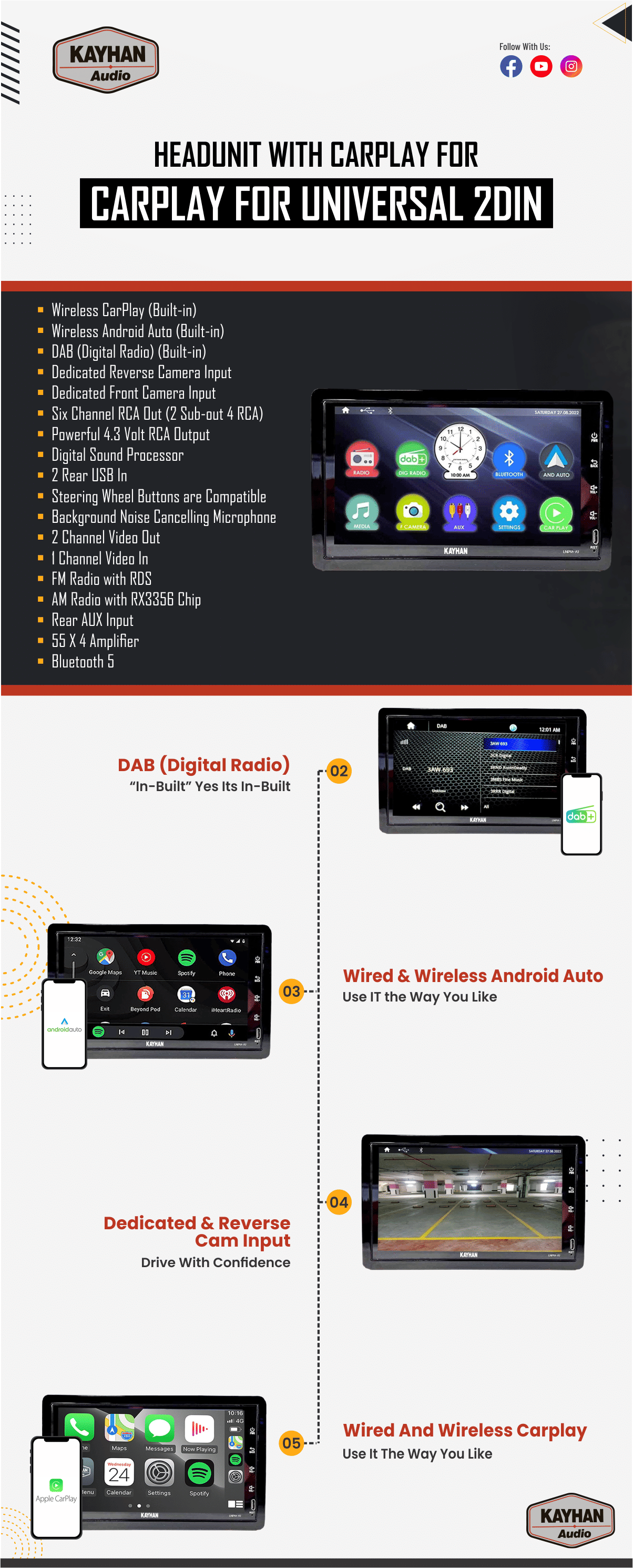 Headunit with CarPlay for Universal 2DIN | 7″ inch pro
Key Features and Specifications:
Wireless CarPlay (Built-in): Enjoy the convenience of wireless CarPlay, allowing you to seamlessly connect your iPhone to access calls, messages, maps, and music directly through the car's infotainment system.
Wireless Android Auto (Built-in): Benefit from built-in wireless Android Auto, enabling wireless integration of your Android smartphone for access to apps, navigation, and more directly on the car's display.
DAB (Digital Radio) (Built-in): The built-in Digital Audio Broadcasting (DAB) feature provides high-quality, interference-free digital radio broadcasts, enhancing your radio listening experience.
Dedicated Reverse Camera Input: Equipped with a dedicated input for a reverse camera, improving safety during parking and reversing maneuvers.
Dedicated Front Camera Input: Includes a dedicated input for a front camera, enhancing visibility and safety when parking or maneuvering in tight spaces.
Six Channel RCA Out (2 Sub-out 4 RCA): Offers six-channel RCA outputs, including two subwoofer outputs and four RCA speaker outputs, allowing for flexible audio system configurations.
Powerful 4.3 Volt RCA Output: The substantial 4.3-volt RCA output ensures clear and powerful audio signals for an enhanced listening experience.
Digital Sound Processor: Features a built-in digital sound processor (DSP) for fine-tuning audio settings, enabling customization and optimization of audio output.
2 Rear USB In: Provides two rear USB inputs for easy connectivity to external devices, file management, and app installation.
Steering Wheel Buttons are Compatible: Compatible with steering wheel buttons, allowing you to control various functions without taking your hands off the wheel.
Background Noise Cancelling Microphone: Equipped with a background noise-canceling microphone for clear phone calls and voice commands, even in noisy environments.
2 Channel Video Out: Offers two video outputs for connecting external displays or monitors, expanding entertainment options for rear passengers.
1 Channel Video In: Features one video input for connecting external video sources such as DVD players or gaming consoles, enabling their content to be displayed on the car stereo's screen.
FM Radio with RDS: Supports FM radio reception enhanced by Radio Data System (RDS), providing station information for a more informative radio experience.
AM Radio with RX3356 Chip: Includes AM radio reception with the RX3356 chip for improved signal quality and radio performance.
Rear AUX Input: Provides a rear auxiliary input for connecting external audio devices such as MP3 players or smartphones using auxiliary cables.
55 X 4 Amplifier: Features a powerful 55 x 4 amplifier for robust audio output, delivering clear and dynamic sound.
Bluetooth 5: Utilizes Bluetooth 5 for advanced wireless connectivity, including hands-free calling, music streaming, and more.
Climate Controls are Compatible: Compatible with climate controls, allowing you to adjust and control vehicle climate settings directly through the head unit.
These specifications highlight the advanced features and capabilities of the "Headunit with CarPlay for Universal 2DIN | 7″ inch pro," making it a versatile and feature-rich infotainment system for your vehicle.