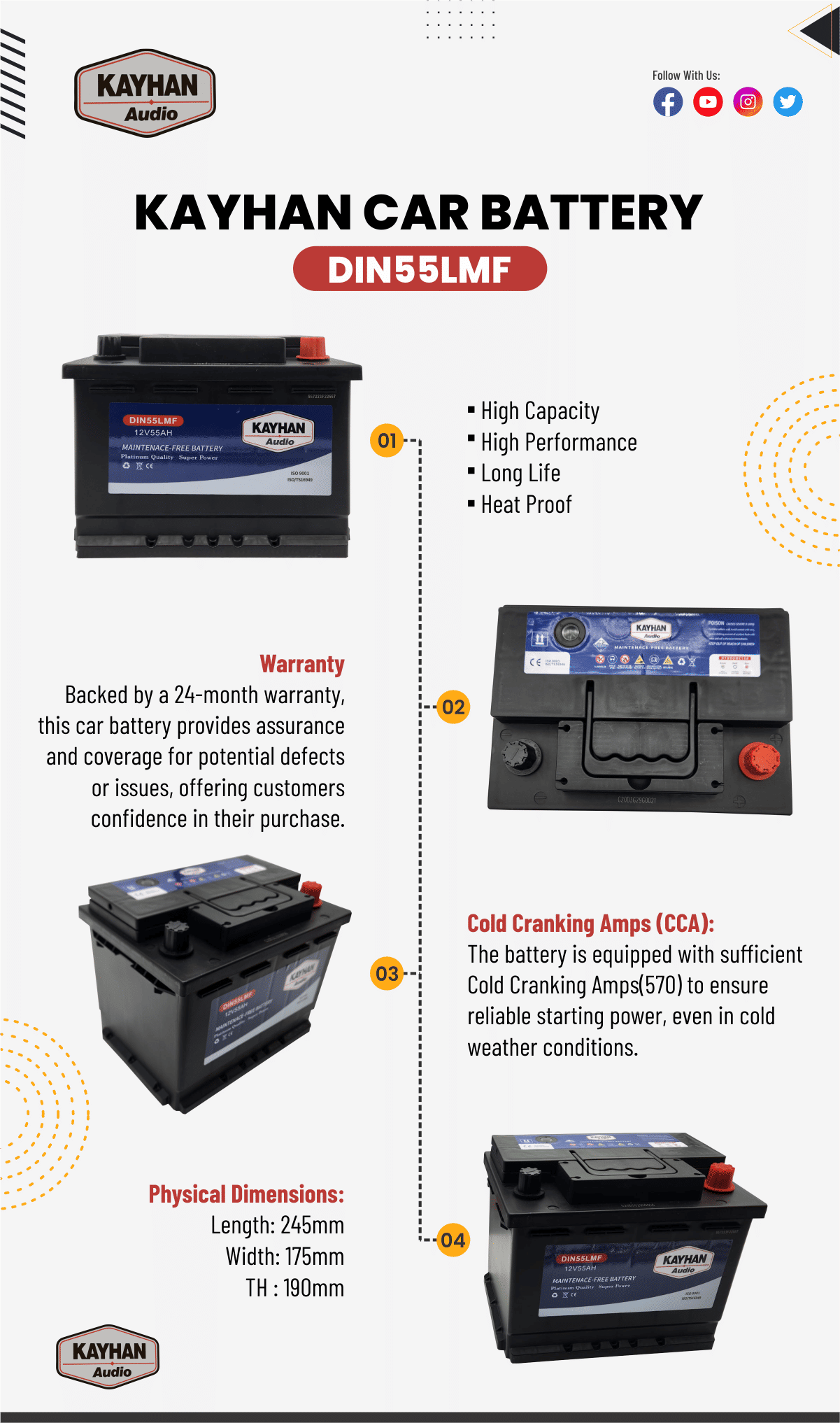 Battery Type:

The Kayhanaudio Car Battery is a DIN45MF type, designed for compatibility with various vehicle makes and models.

Voltage and Capacity:

Operating at 12 volts, this maintenance-free car battery boasts a robust capacity of 55 ampere-hours (AH), ensuring reliable and consistent power for your vehicle.

Maintenance-Free Design:

The maintenance-free feature eliminates the need for regular checks and refills, providing convenience and peace of mind to users. It is sealed, preventing acid leaks and minimizing the risk of damage to the vehicle and surrounding components.

Advanced Technology:

The Kayhanaudio Car Battery incorporates advanced technology to deliver optimal performance, durability, and a longer service life.

Warranty:

Backed by a 24-month warranty, this car battery provides assurance and coverage for potential defects or issues, offering customers confidence in their purchase.

Compatibility:

Designed to meet DIN specifications, the battery is compatible with a wide range of vehicles, ensuring a seamless fit and reliable performance.

Application:

Ideal for use in various car models, the Kayhanaudio Car Battery is a versatile power source suitable for everyday driving and challenging conditions.

Cold Cranking Amps (CCA):

The battery is equipped with sufficient Cold Cranking Amps(570) to ensure reliable starting power, even in cold weather conditions.

Construction:

The robust construction of the battery is designed to withstand vibrations and shocks commonly experienced during vehicle operation, enhancing its overall durability.

Safety Features:

The battery includes safety features to protect against overcharging, short circuits, and other potential electrical issues, ensuring the safety of both the vehicle and its occupants.

Easy Installation:

The Kayhanaudio Car Battery is designed for easy installation, making it convenient for both professional mechanics and DIY enthusiasts.

Environmental Considerations:

The battery adheres to environmental standards, with a focus on eco-friendly materials and responsible manufacturing processes.

Physical Dimensions:

Length: 245mm
Width: 175mm
TH : 190mm
In summary, the Kayhanaudio DIN45MF 12V 55AH Maintenance-Free Car Battery offers a reliable and durable power solution for a wide range of vehicles, backed by a 24-month warranty for added peace of mind.