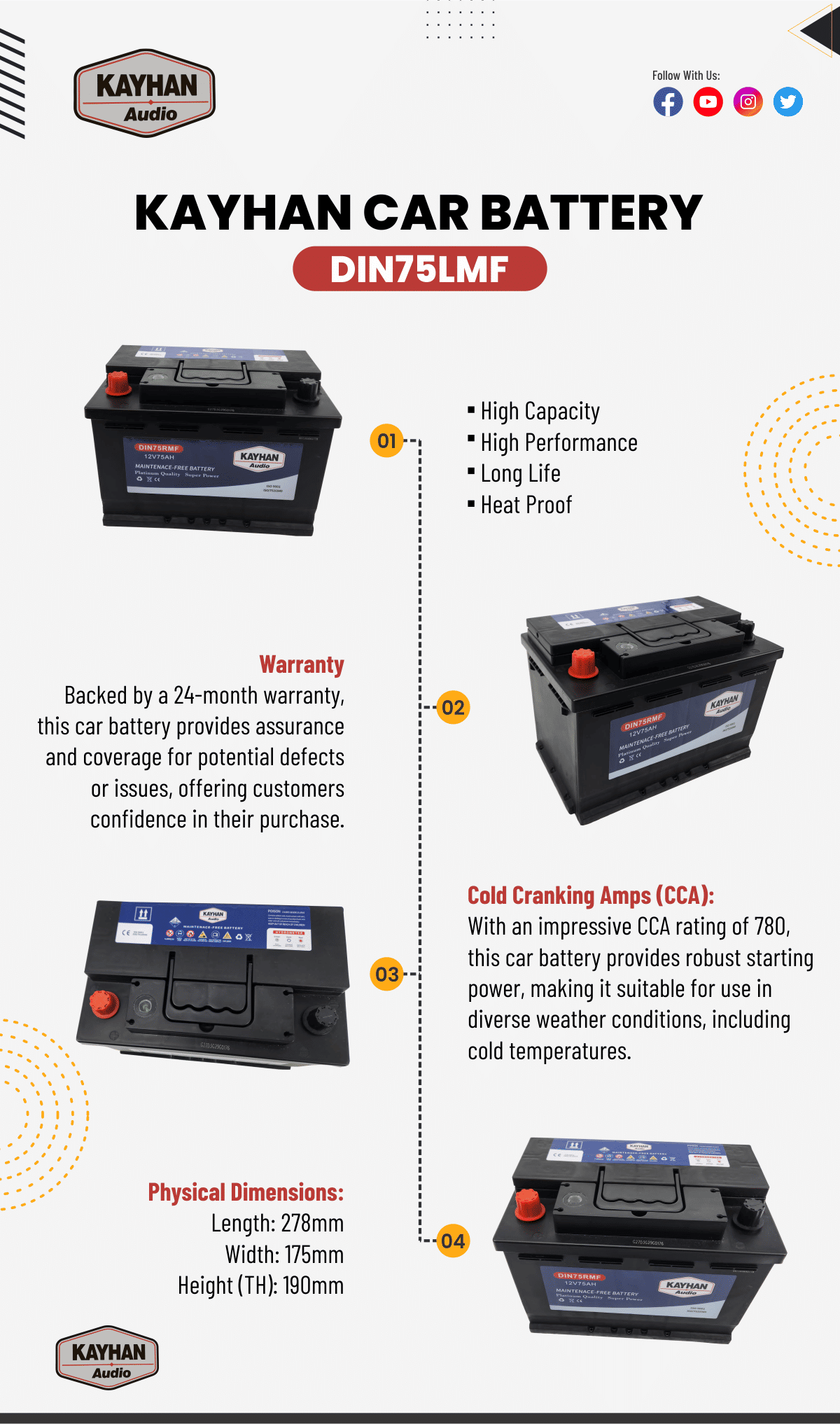 Product Specifications: Kayhan Car Batteries"75-AMPS"
Battery Type:

The Kayhanaudio Car Battery is a DIN75MF type, designed to meet the specifications of a variety of vehicles.

Voltage and Capacity:

Operating at 12 volts, this maintenance-free car battery features a substantial capacity of 75 ampere-hours (AH), ensuring reliable and sustained power for your vehicle.

Cold Cranking Amps (CCA):

With an impressive CCA rating of 780, this car battery provides robust starting power, making it suitable for use in diverse weather conditions, including cold temperatures.

Compact Dimensions:

The battery is designed with compact dimensions, ensuring a perfect fit for your vehicle.

Length: 278mm
Width: 175mm
Height (TH): 190mm

Maintenance-Free Design:

The maintenance-free design eliminates the need for regular checks and refills, providing convenience and peace of mind to users. It is sealed to prevent acid leaks and enhance safety.

Advanced Technology:

The Kayhanaudio Car Battery incorporates advanced technology to deliver optimal performance, durability, and an extended service life.

Warranty:

Backed by a 24-month warranty, this car battery offers coverage and assurance against potential defects or issues, instilling confidence in your purchase.

Compatibility:

Designed to meet DIN specifications, the battery is compatible with a broad range of vehicles, ensuring a seamless fit and dependable performance.

Application:

Ideal for use in various car models, the Kayhanaudio Car Battery is a versatile power source suitable for everyday driving and challenging conditions.

Construction:

The battery's robust construction is designed to withstand vibrations and shocks commonly experienced during vehicle operation, enhancing overall durability.

Safety Features:

The battery includes safety features to protect against overcharging, short circuits, and other potential electrical issues, ensuring the safety of both the vehicle and its occupants.

Easy Installation:

The Kayhanaudio Car Battery is designed for easy installation, making it convenient for both professional mechanics and DIY enthusiasts.

Environmental Considerations:

The battery adheres to environmental standards, with a focus on eco-friendly materials and responsible manufacturing processes.
In summary, the Kayhanaudio DIN75MF 12V 75AH Maintenance-Free Car Battery combines a powerful performance, compact design, and advanced technology, backed by a 24-month warranty for added peace of mind.